Start a career with impact #BringYourAmazing
When you join an international telecommunications leader, you'll tap into incredible possibilities that take you further than you ever imagined.
LEADING TELECOMMUNICATIONS PROVIDER IN LATIN AMERICA AND THE CARIBBEAN
MORE THAN 20 CONSUMER MARKETS
MORE THAN 30 BUSINESS MARKETS
GENERATING $4.7 BILLION1 IN REVENUE
OUR NETWORK PASSES THROUGH 8.3m2 HOMES
OVER 12,0003 EMPLOYEES
1Revenue for the nine months ended September 30, 2021, annualized. Revenue by product excludes "Non-subscription revenue" for residential fixes services and "Other revenue".
2Operating data as of September 30, 2021. Due to rounding, certain totals may not recalculate.
3Employees as of December 31, 2020.
Join Our People & Communications team

Our people are the heart of our business. The People & Comms team is focused on supporting and developing our employees, communicating about who we are and how we deliver for our customers and shareholders, and connecting with our communities. Heart is more than something we have, it's something we share.

Join Our Technology & Innovation Team

This team sees opportunity in every challenge. They are creative, agile, and determined to not only provide the best products, services, and connections, but to create those of the future. Maintaining and upgrading our networks and managing our IT capabilities, our Technology & Innovation team keeps us at the forefront of innovation. Technology excites us, enables us, and drives us.

Join our Finance team

Commercial finance, tax and financial planning, accounting and external reporting, investor relations, strategic oversight—the Finance team does it all to manage our financial performance and create opportunities for growth. We own it. At every level, in every position, we're responsible.

Join our Legal team

Working in a global environment, our Legal teams provide support and advice for a broad range of complex legal matters, including risk management, corporate governance, financial reporting, litigation, mergers and acquisitions, commercial contracts, and regulatory and general compliance. Our work has purpose, and what we do makes a difference.

Join Our Strategy team

The people behind our Strategy team shape the growth of our company. They review our corporate development plans, identify potential mergers and acquisitions that align with our goals, and develop innovative approaches to create competitive advantage and drive growth. Passion in all we do makes hard work seem easy.

Join our Commercial Team

Our Commercial teams ensure we're providing our customers with the best experience in every interaction—from that first step into our physical or online stores to enjoying the products and services we offer. This energetic team is always seeking ways to delight customers, cultivate relationships, and create moments that matter for our residential and business customers. We do it the best, and we do it with spirit.

Start your career

We're a company with an ambitious growth journey ahead of us – and we want the talent of tomorrow to help us get there. Register your interest with us today and we'll let you know when the time is right for us to connect and start your career.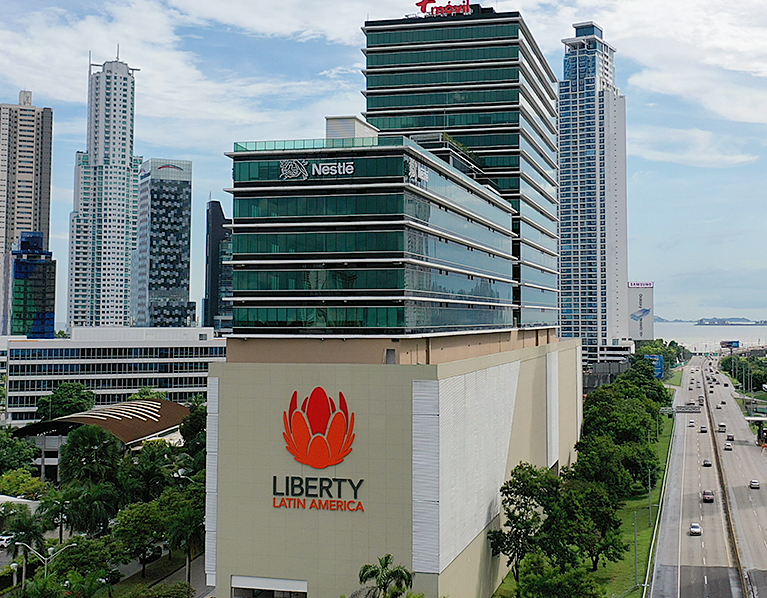 Panama city: Our operations center
We've got big growth plans for the future. So, we're creating scalable centers of excellence in our brand new operational headquarters in Panama City – a vibrant hub with great physical and digital connectivity. Here, you'll find exciting roles in our Technology, People & Communications and Finance teams, driving operational efficiencies to support investment in our growth, creating even more moments that matter to our customers.
This is why we're ,

Por esto somos,

Liberty Latin America. Our little book of big moments.

Nuestro pequeño libro de grandes momentos
We asked our people what they loved most about working at Liberty Latin America – the moments, stories and real-life examples of our philosophy in action. Take a look to see what it's like to work in one of our vibrant markets.
About us
We believe connections transform lives. From Latin America to the Caribbean, our video, broadband internet, telephone and mobile services bring together more than 20 consumer markets and more than 30 business markets. As we grow, we're excited about what the future holds and the opportunities that we can unlock in the region. That's why we are leading the way in connecting people and businesses.
WE DO IT THE BEST AND WE DO IT WITH SPIRIT
---
#BringYourAmazing and work with us to enhance the lives of customers with technology so they can connect, work, live and play without missing a beat. From Latin America to the Caribbean, we connect people and businesses in more than 20 consumer markets and more than 30 business markets. And with careers ranging from commercial to corporate, Liberty Latin America is where you can start a journey driven by your passion.