We do it best and we do it with spirit.
THIS IS WHAT MAKES US LIBERTY LATIN AMERICA
About Us
We believe connections transform lives. From Latin America to the Caribbean, our video, broadband internet, telephone, and mobile services bring together more than 20 consumer markets and more than 30 business markets. As we grow, we're excited about what the future holds and the opportunities that we can unlock in the region. That's why we are leading the way in connecting people and businesses.

Learn more about our culture here
HEAR FROM OUR PEOPLE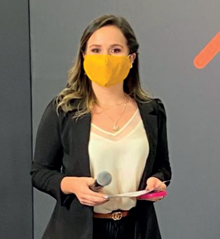 "2021 was marked by many good moments, but if I had to choose one, I would choose August 10, the day in which we were able to celebrate and make official the integration of our fixed and mobile services of our combined company, Cabletica-Movistar. This project brought us closer than ever to working as a single team, in different locations, in different countries, and after many months of work we saw the success of the sacrifice and commitment of each of the people involved in this exciting project."
JOSELYNE
COSTA RICA
"The ability to interchange with more senior people in the organization brings a helicopter view to the business that we don't see very often. At the same time, it brings with it the comfort of knowing that our senior executives are also people, struggling with the same choices that we do, and with the same conditions that we are all going through right now, only with a much broader scope. In summary, how to put things into context and prioritize from a much higher level."
ABDEL
TRINIDAD & TOBAGO
"In 2021, I 'raised my hand' indicating that I was looking for opportunities and/or contributing to projects that could provide me with the professional development space to continue growing in my career. A Project Manager position in another country became available, I applied and was selected for the new role within the People team. I appreciate the time I was given to start my new role from my home country as I prepared to move and create my new life in Panama."
PRYSCILIANA
PANAMA
"I am very proud to belong to a company with concrete values and principles that strengthen our culture. A place where equality, diversity, and inclusion are a fundamental part of the work environment. For us it is important that everyone feels welcome and accepted regardless of their preferences or beliefs, especially in our markets where the LGBTQ+ community is even more vulnerable."
EDY
PANAMA
OUR KEY FACTS
Leading operator in
Latin America and the Caribbean
Operating in over 20 consumer markets and over 30 B2B markets
Extensive and unique subsea network, connecting approximately 40 markets
8.5 million homes passed3
6.5 million RGUs (video, internet, and fixed-line telephony subscribers)3
7.6 million mobile subscribers3
Sign up and receive job alerts based on your preferences.